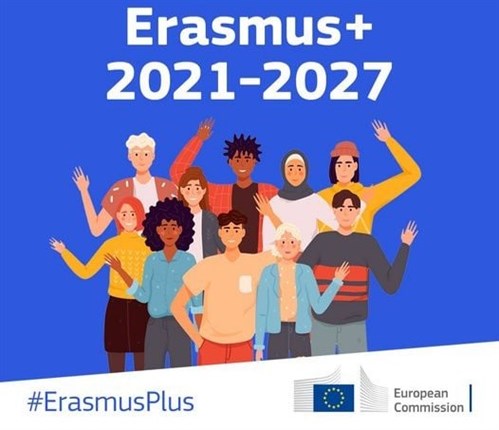 "For more information check the documents available on the right side of this page."
Erasmus+ Programme 2021-2027
GENERAL OBJECTIVE
The programme's general objective is to support, through lifelong learning, the educational, professional and personal development of people in the fields of education, training, youth and sports in Europe and beyond, thus contributing to a sustainable growth, quality employment and social cohesion, as well as promoting innovation and strengthening identity and active citizenship. Thus, the program is a fundamental instrument for the construction of a European Education Area, by promoting strategic European cooperation in the fields of education and training and their respective agendas, enhancing political cooperation for young people under the EU Youth Policy Cooperation for 2019-2027 and promoting the European dimension in sports.
SPECIFIC OBJECTIVES
The programme has the following specific objectives:
to promote individual and group mobility for learning purposes, as well as cooperation, quality, inclusion and equity, excellence, creativity and innovation in organizations and policies in the education and training fields;
to promote mobility for non-formal and informal learning purposes and active participation among young people as well as cooperation, quality, inclusion, creativity and innovation in youth organizations and policies;
to promote personnel mobility for learning purposes the sports' field as well as cooperation, quality, inclusion, creativity and innovation at the level of sports organizations and policies.
THE PRIORITIES OF THE ERASMUS+ PROGRAMME
Inclusion and diversity;
Digital transformation;
Environment and combating climate change;
Participation in democratic life.
FIELD OF ACTION OF THE ERASMUS+ PROGRAMME
In order to attain its goals, the Erasmus+ Programme foresees the completion of the following actions during the 2021-2027 period:
KEY ACTION 1 – INDIVIDUAL MOBILITY

Mobility projects for learners and staff in higher education, vocational education and training (VET), school education, adult education and youth; o Youth participation activities.
Activities planned for youth participation.
KEY ACTION 2 – COOPERATION BETWEEN ORGANIZATIONS AND INSTITUTIONS

Partnerships for Cooperation, such as:

Cooperation partnerships;
Small dimension partnerships.

Partnerships for Excellence, such as:

Professional Excellency Centers;
Erasmus+ Teacher Academies;
Erasmus Mundus Action.

Partnerships for Innovation – Alliances for Innovation;
Youth sector capacity reinforcement;
European non-profit sporting events.
KEY ACTION 3 – SUPPORT TO THE DEVELOPMENT OF POLICIES AND COOPERATION
JEAN MONNET ACTION

Jean Monnet Action in the higher education sector;
Jean Monnet Action in other sectors of education and training.
INFORMATIONS: erasmus@cespu.pt | Tel.: +351 224 157 200