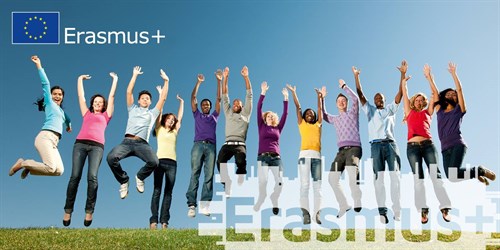 For more information check the documents on the right side and the platform http://ects.cespu.pt/en/
ERASMUS+ PROGRAMME
The Erasmus+ is the European Union (EU) program for the period 2014-2020 to support education, training, youth and sport in all sectors of lifelong learning, including Higher Education, Vocational Training, Adult Education, School Education, Youth Activities and Training in the filed amateur Sports.
The Programme supports 3 major Actions, cooperation and tools consistent with the objectives of the Europe 2020 Strategy and its flagship initiatives, such as Youth on the Move and the Agenda for new skills and jobs. The Programme also contributes to achieve the objectives of the Education and Training Strategic Framework for European cooperation in Education and Training and of the European Youth Strategy through the Open Methods of Coordination.
The mobility of individuals for learning purposes is integrated in Key Action 1 and offers the following opportunities in Higher Education:
Students Mobility for Studies (SMS);
Students Mobility for Traineeships (SMP);
Teaching Staff Mobility for Teaching Assignments (STA);
Teaching and Non-Teaching Staff Mobility for Training.
Benefits for Students:
improved learning performance;
enhanced employability and improved career prospects;
increased sense of initiative and entrepreneurship;
increased self-empowerment and self-esteem;
improved foreign language competences;
enhanced intercultural awareness;
more active participation in society;
better awareness of the European project and the EU values;
increased motivation for taking part in future (formal/non-formal) education or training after the mobility period abroad.
Bennefits for Teaching and Non-Teaching Staff:
improved competences, linked to their professional profiles;
broader understanding of practices, policies and systems in education, training or youth across countries;
increased capacity to trigger changes in terms of modernisation and international opening within their educational organisations;
greater understanding of interconnections between formal and non-formal education, vocational training and the labour market respectively;
better quality of their work and activities in favour of students;
greater understanding and responsiveness to social, linguistic and cultural diversity;
increased ability to address the needs of the disadvantaged;
increased support for and promotion of mobility activities for students;
increased opportunities for professional and career development;
improved foreign language competences;
increased motivation and satisfaction in their daily work.
INFORMATION
ERASMUS AND MOBILITY SUPPORT SERVICE OF CESPU, CRL.
Campus Universitário de Gandra (Room 3039)
Rua Central de Gandra, 1317 | 4585-116 Gandra PRD - Portugal
Tel: +351 224 157 200
Tuesday e Thursday – 10 a.m. – 12.30 p.m. | 2.30 p.m. – 4.30 p.m.
Campus Académico de Famalicão (Gabinete de Ingresso)
Rua José António Vidal, 81 | 4760-409 Vila Nova de Famalicão - Portugal 
Tel: +351 252 303 600
Wednesday - 10 a.m. – 12.30 p.m. | 2.30 p.m. – 4.30 p.m.
Campus Académico de Penafiel (Secretaria/Secretariado)
Rua Direita, 5 - Ed. IINFACTS | 4560-485 Penafiel - Portugal
Tel: +351 255 102 813
Friday morning – Only by prior appointment.